I've seen some exhaustive comparisons between Robinhood and Webull. Here I will provide a simple summary comparison and call out some of my likes and dislikes. I don't consider myself to be a day trader, but more of a casual trader. I use both tools fairly regularly, so some shared insight might help you if you are considering one of them
First a look back…
Robinhood history
Robinhood was founded in April 2013 by Vladimir Tenev and Baiju Bhatt, who had previously built high-frequency trading platforms for financial institutions in New York City. The company's name comes from its mission to "provide everyone with access to the financial markets, not just the wealthy". Robinhood was the first to bring commission-free trades of stocks. Although this is fairly common now, free trades in 2013 were a HUGE deal!
Robinhood competitors
Although more competitor products continue to enter the market Webull is the immediate strong competitor that comes to mind.
Webull history
On May 24, 2017, Webull Financial LLC was established as a Delaware limited liability company by Wang Anquan, a former employee of Alibaba Group.
Robinhood offers multiple investment options, such as commission-free investments in stocks, ETFs, and options. Robinhood also offers the unique option to invest in cryptocurrency. Users can buy and sell Bitcoin, Ethereum, Dogecoin, and others within the app. Mutual funds, bonds, and over the counter stocks aren't available with Robinhood.
Webull is slightly more limited in its investment offerings, but they do carry 5,000 stocks and ETFs. There are also ADR investment opportunities; however, they don't offer cryptocurrency, mutual funds, bonds, or over-the-counter stocks.
Robinhood vs. Webull Feature Snapshot:
FEATURE
ROBINHOOD
WEBULL
Tradable securities
Stocks, ETFs, Options,
Cryptocurrencies, ADRs
Stocks, ETFs, Options,
Cryptocurrencies, ADRs
Commission-Free Trades
Yes, $0 stocks & options
Yes, $0 stocks & options
Account minimums
None for brokerage & Robinhood Gold,
$2,000 for margin account
None
Fractional shares
Yes
Yes
Forced minimum shares
No
Yes*
DRIP
Yes
No
IRAs (Roth, Traditional, Rollover)
No
Yes
Trading Simulator
No
Yes
Free stock offer
Yes
Yes
Customer support
Email / social media
24/7 phone, email, chat
Annual fee
None
None
Things I like about Webull...
I find that I tend to use Webull more from my desktop and Robinhood more from my mobile phone. Webull provides a desktop version of the application. Included in this app is a great stock screener utility that I frequently use.
The other feature Webull that I think is great and frequently use that Robinhood does not provide is easy creation of Stop-Loss and Take-Profit orders in conjunction with the creation of an initial buy order. Simply select the relevant slider option and the corresponding stop or take order will be created based on default configured percentage offsets from the buy amount.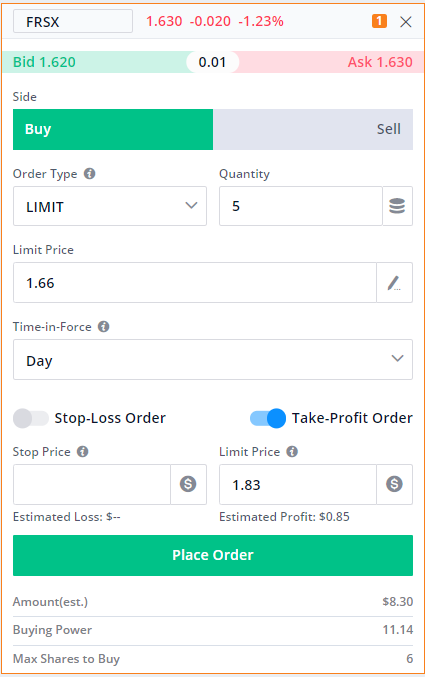 On the Robinhood side, the following features distinguish it from Webull:
Automatic Dividend Reinvestment (DRIP), allows investors to reinvest their cash dividends into additional (or fractional) shares of the underlying stock that paid the dividend. If your portfolio contains stocks that pay dividends, or you are planning on buying these types of stocks, DRIP is a good strategy to assist investors in growing wealth and automatically applying dollar-cost averaging to investments. (To be fair, this is a rumored feature coming soon to Webull)
These next 2 things are more frustrating with Webull's approach than a strong positive for Robinhood. Webull limits the purchase of stocks priced under a dollar to round lots (100 shares). Robinhood doesn't seem to limit purchases of this type. I know, I'm calling out the bottom of the pond stuff, but you have to start out someplace. And again, if you have a stake in small caps and want to dollar cost average it is frustrating to be blocked.
The other thing with Webull is that it feels like a perpetual waiting game for funds to clear and be available. From the initial deposit, to share sales, the money seems to hang out in unsettled funds. Essentially under the hood, or behind the scenes, they are creating a nice floating pool of money. I have to assume that this is a "looks good" thing for their balance sheet.
So, there you have it. I'm no Rockefeller, or to use a more contemporary reference, no Warren Buffet. I'm not even "Joe the Plumber", I'm more "Main Street Joe", and I prefer Robinhood over Webull for its straightforward, easy-to-use interface. Additionally, fast access to $1k of deposits, no limitations on small-cap purchases, automatic dividend reinvestment (DRIP), and scheduled recurring investments make Robinhood the choice for me.